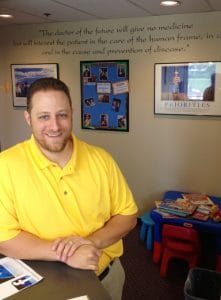 Chiropractor Jamey Speigle D.C.
Dr. Jamey Speigle is committed to helping people restore and maintain their health through the natural healing powers of chiropractic. Dr. Speigle has been serving the Western PA and Eastern OH communities for the past 9 years and has helped thousands of people reach their wellness goals without the use of medications and surgery.
"I decided to become a chiropractor while I was in high school. I was visiting an older relative of mine and I saw something very disturbing on her kitchen counter. It was the biggest pill box I had ever seen. There must have been six to seven pills for each day in that container." I said to myself, "I hope this is not what I have to look forward to! That is the moment I decided to focus on helping others restore their health in the most natural way possible."
What is the easiest way to fix a problem? Dr. Jamey Speigle believes the answer to be before it even begins. Dr. Jamey addresses the cause of health issues and concerns rather than just treating the symptoms. From the person who suffers from chronic pain and headaches to a child who has difficulty sleeping through the night; everyone benefits from chiropractic care. At Speigle Chiropractic, we are excited to know that we help our patients achieve an optimum level of health so that they may truly enjoy living.
"Dr. Jamey" grew up minutes from Cranberry Township in New Sewickley, PA attending Freedom High School. Dr. Speigle obtained his bachelor's degree in Neuroscience from the University of Pittsburgh and graduated from Sherman College of Chiropractic in Spartanburg, SC with magna cum laude honors. Dr. Speigle currently resides in the Mars area with his wife, two boys, and miniature dachshund "Peanut." Dr. Speigle's entire family is under chiropractic care. (Yes, even "Peanut!")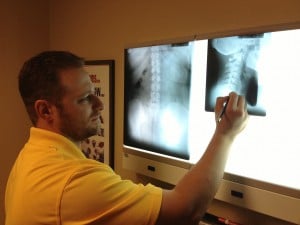 Dr. Speigle is the Clinic Director and proud owner of newly named 'Speigle Chiropractic' in Cranberry Township, PA. As the former Clinic Director of Newman Chiropractic Center, Dr. Jamey M. Speigle has now taken over ownership of the practice! Dr. Speigle is a Board-certified and state-licensed Doctor of Chiropractic.
Speigle Chiropractic is conveniently located off Rt. 19 just north of Wal-Mart, in the Landmark Two, Professional Building behind Mac Outfitters. New patients are always welcomed, and always treated like family.
---
Meet Jessica
Jessica is the Director of Marketing & Community Events Coordinator at Speigle Chiropractic. She is often the first face that new patients meet before they find our office on Rt. 19 N, Cranberry Township. Jessica provides chiropractic education and engages with the community to provide understanding about the benefits of chiropractic.
"At every event I participate in, I meet people who believe that they are just destined to live in pain. They believe that at this stage in their lives 'that's just the way it is' and they must 'live with it'. My job is exciting because I get to help lead the hope-less to a place of HOPE."
Jessica understands the detriment of chronic pain. After conquering her own health crisis, she is thrilled to have helped hundreds of people find a drug-free form of health care, with no side effects other than feeling your best! "I love to see the new-found joy in our patients' eyes; you can actually see that they feel healthier than they ever believed they could!"
When she's at the practice, you may need to sneak to the back and pop your head into her office in order to find her. Stop on by! A smiling face is always welcome.
Jessica also helps to establish health and wellness programs within companies in our community. She works with lots of health related vendors who are passionate about helping others achieve their personal wellness goals. From Mini Health Screenings, to Lunch 'n Learn speaking engagements, to full service Health Fairs – she does it all! If you are interested in having Jessica coordinate a Corporate Health Event for your company, HR directors can contact her at jessicajonesoffice@gmail.com or call her directly at (724) 742-1820.
---
Speigle Chiropractic
Speigle Chiropractic is a family friendly office that welcomes patients of all ages. While our patients' health is our primary focus, we truly care about our patients as human beings. Our patients are like family to us. You will be greeted by smiling faces and surrounded by festive decorations. Speigle Chiropractic's notorious monthly décor makes this space much more fun than any typical office. We also love to inspire our patients with our educational "Condition of the Month" education boards. Finally, Speigle Chiropractic takes pride in remaining flexible, in order to accommodate for your busy schedule.
If you have any questions regarding Speigle Chiropractic or would like to set up an appointment, call (724) 742-1818.
OFFICE HOURS
---
Monday
9:00am - 1:00pm
3:00pm - 6:00pm
---
Tuesday
3:00pm - 6:00pm
---
Wednesday
9:00am - 1:00pm
3:00pm - 6:00pm
---
Thursday
Closed
---
Friday
9:00am - 1:00pm

---
Saturday
By Appointment